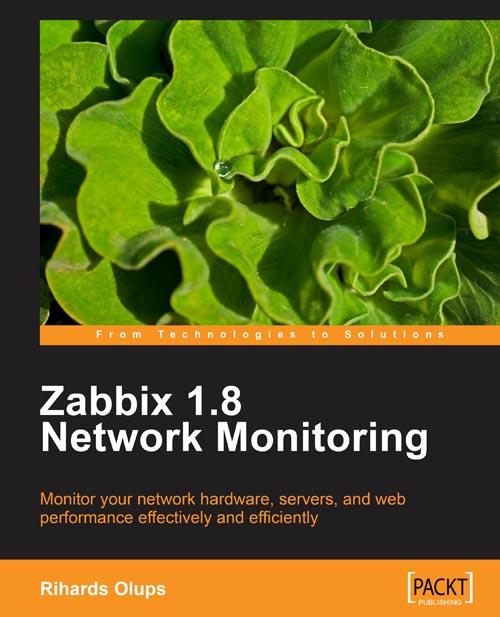 Zabbix is a good Network Monitoring System, recently grown up to version 1.8. The book I was pleased to review is an easy guide to go deep into its mechanisms and to discover its many features.
The book covers every aspect of Zabbix, from the installation process to distributed monitoring, with a in-depth coverage of hosts monitoring techniques and user notification system. Many practical examples and screenshots help the reader to configure the system and have a fully working setup in a few minutes.
A whole chapter is dedicated to the SNMP integration, with a good explaination of the protocol and very practical tips about the use of Net-SNMP suite and MIBs. The author also included a good tutorial about the setup of a traps handling procedure with hosts binding.
Two more noteworthy chapters are about the use of templates and macros to simplify the configuration of Zabbix, and advanced monitoring, such as using external scripts or data already gathered by other systems.
If you plan to use Zabbix and you are starting from scratch, or even if you already use it but you want to deepen some aspects, I really suggest you to have a look at this book! In the meantime, here you can find a sample chapter: Getting your first Notification (PDF).
My two pennies worth 😉
Details
Title: Zabbix 1.8 Network Monitoring
Language: English
Paperback: 428 pages [ 235mm x 191mm ]
Release Date: March 2010
ISBN: 184719768X
ISBN 13: 978-1-847197-68-9
Author(s): Rihards Olups
More info: Packt Publishing web site
The following two tabs change content below.
Italian, born in 1980, I started working in the IT/telecommunications industry in the late '90s; I'm now a system and network engineer with a deep knowledge of the global Internet and its core architectures, and a strong focus on network automation.
Latest posts by Pier Carlo Chiodi (see all)