After the good IPv6 Working Group presentations at RIPE67 I decided to put togheter some data regarding IPv6 adoption in Italy, analyzing enabled Government websites and enabled access networks.
The results are… quite encouraging from the point of view of the work that needs to be done!

IPv6 enabled Italian Government websites
In the wake of Zuzana Duračinská's work presented at RIPE67 I built a small lab to analyze IPv6 adoption by Italian Government websites.
As shown in the aforementioned document I used IPv6 Services Monitoring Tool (IPv6-SMT) to analyze 74 websites and domain names taken from the Italian Governement official website (www.governo.it) plus the RIPE.net website used as positive control group.
Analyzed domains include constitutional organs, authorities, armed forces, committees and Commissions, Government agencies and ministries.
Results (RIPE.net excluded) show that no domains have IPv6 support for web, only 6 (8.22 %) have some IPv6 enabled authoritative name servers and only 1 domain has full IPv6 support on its MX record (thanks to Google Apps hosting its mail service).
Occasionally I update these results: you can find the latest ones here.
Last run: 2015-12-29.
Putting these results next to those showed at RIPE67 (GEN6 – national level only) we have the following situation of IPv6 oriented services:
Just a reminder:
Member States should make eGovernment services fully interoperable overcoming organisational, technical or semantic barriers and supporting IPv6
Digital Agenda for Europe, pillar VII, action 89
IPv6 enabled Italian access networks
Measuring IPv6 adoption at the access network level is a quite difficult exercise in which many have attempted.
Thanks to Google IPv6 Statistics data and Eric Vyncke comparison tool we can analyze data about IPv6 enabled web browser accessing Google contents.
Italy seems to be very far from most of the G7 members adoption rates (Italy is the flat azure line at the bottom of the chart):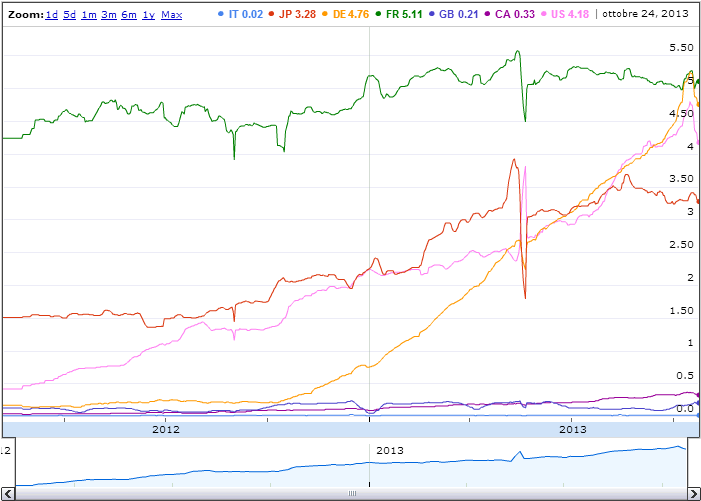 Only 0.02% of Italian visitors access Google contents via IPv6, while Japan, Germany, France and United States have between 3 and 5 % of enabled IPv6 users and UK and Canada are at 0.21 % and 0.31 % rate respectively.
APNIC also have similar data on its IPv6 Deployment Report:
It seems we are very far from both the European and the global average usage:
RIPE also is running a beta tool within the IPv6 RIPEness project to measure real IPv6 deployment from LIRs in the RIPE NCC service region (considering access network + contents): at time of writing, Italy has 42 LIRs with the fifth IPv6 RIPEness star over a total of 929 operating in the Italian area:
I don't know what are the causes of this delay; maybe a missing clear legislation which discourages ISPs to adopt IPv6 transition mechanisms, or lack of experience and technical problems on existing equipments, don't know but I'm sure something has to be done, soon!
Long is the road to IPv6 in the Bel Paese…
The following two tabs change content below.
Italian, born in 1980, I started working in the IT/telecommunications industry in the late '90s; I'm now a system and network engineer with a deep knowledge of the global Internet and its core architectures, and a strong focus on network automation.
Latest posts by Pier Carlo Chiodi (see all)